How to recover your $47 subscription cost in 1 hour.
A Beginner's Guide to Buying on eBay and Selling on Amazon for a profit.
Welcome to the Flipl Quick Start Guide! Flipl is a powerful software tool designed to help you find brand-new items on eBay at heavily marked-down prices that you can resell for a profit on Amazon.
This guide will walk you through the process of using Flipl, vetting products, and successfully selling on Amazon.
1. Finding Potential Flips – Set Your Filters
Log in to your Flipl account and navigate to the main dashboard. We recommend using the following filters to get started:

This will help you find faster moving products that sell within days to 1-3 weeks.
2. Vetting Products on eBay
To ensure you invest in the right products, use the following cheatsheet and criteria to assess each potential result in the list.
Make sure the eBay product matches the Amazon listing.
Product Condition & Seller Feedback
The product should be brand new. Otherwise, you risk getting your account dinged up with negative reviews by selling used products as new.
Verify Prices, ROI, and Profit
Flipl calculates your profit margin by factoring in the purchase price, shipping costs, and Amazon fees. However, prices can sometimes drop faster than our software can detect it. It's essential to verify that the price is correct on Amazon. Otherwise, the calculations will be off.
Avoid Private Label Products
 When the brand owner is selling the product directly on Amazon, it can be more challenging to compete with them on price and visibility. To avoid these challenges and increase your chances of success, it's better to source products where the brand owner is not directly selling on the Amazon listing. 
When trying to resell private label products, you may also face IP claims, as the original seller may enforce restrictions on reselling their exclusive items. 
As a third-party seller on Amazon, it's crucial to be aware of intellectual property (IP) issues that can arise when reselling products. IP issues can involve trademark, copyright, or patent infringements, leading to account suspensions, legal disputes, and financial losses. Sellers must ensure they have the necessary permissions and rights to sell products to avoid violating IP laws.
To help you mitigate potential IP issues, Flipl recommends using the SellerAmp Chrome extension. This helpful tool assists sellers in identifying potential IP concerns before listing products on Amazon. Using SellerAmp, you can effectively reduce the risk of encountering IP problems, ensuring a smoother and more profitable selling experience.
Flipl is committed to providing the best tools for its users and is currently working on integrating an internal IP-checking feature into the platform. Once available, this feature will eliminate the need for third-party plugins, making it even easier for you to identify potential IP issues and maintain a successful Amazon business.
3. Analyzing Price & Estimating Sales With Keepa Charts
Once you've found a promising product, further investigate its price history and quantity availability using Keepa price charts. 
It's important to familiarize yourself with Keepa charts and sales data to better understand the product's sales history and demand. If you're just starting out, you'll likely want to sell the product FAST to recoup your investment back ASAP. 
This is where the Keepa chart comes in handy. 
How to read the Keepa Charts
A Keepa chart is a visual representation of a product's price and sales rank history on Amazon. To read it, look for fluctuations in the pink colored lines representing sales rank. For example, if the pink line dips multiple times within a month, it indicates frequent sales.
You want to see at least 5-10 "dips" to ensure a quick flip. The chart below shows many dips, which means it's a fast moving product.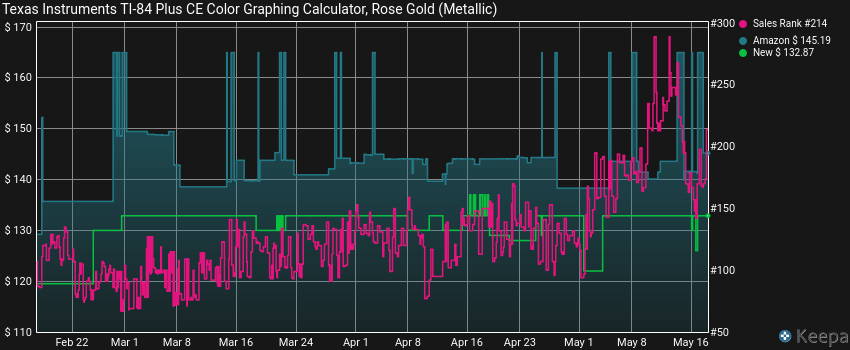 Avoid Products With These Charts
The following chart shows only a single drop in the last 90 days. I would consider staying away from these if you're just starting out. 



Once you've thoroughly vetted the product using the checklist provided and confirmed that the Keepa chart looks promising, it's time to move forward and purchase the product on eBay. 
To further investigate a potential product on eBay for resale, consider the following questions:
Is the price declining rapidly?
Keepa price chart is an excellent tool for checking if the price of a product is declining rapidly. Analyzing the price trend will help you avoid products with decreasing demand or increasing supply, which can negatively impact your profit margins.
Is the price "abnormally" higher than its recent average?
Sometimes, third-party sellers may inflate the price of a product when Amazon goes out of stock, which can result in a temporary increase in price. This can be misleading, as the inflated price may not be sustainable once Amazon restocks the item.
Look for any sudden spikes in price that are significantly higher than the recent average. This may indicate that the current price is inflated and may not be sustainable in the long term.
Are multiple quantities available?
If you find a good potential product on eBay, it's worth checking if there are multiple listings available at a similar price. This can be an excellent opportunity to buy more than one item at a discounted rate to increase your profits.
To check for multiple quantities on eBay, follow these steps:
Visit eBay and search for the product using its name or model number.
Browse through the search results and look for listings with similar prices.
Check the item descriptions and seller information to ensure that the products have the same specifications and are in new condition.
If you find multiple listings that fit your criteria, consider purchasing more than one item to maximize your profits.
Check Daily, Check Often!
To make the most of your Flipl experience, we recommend periodically checking the dashboard every 1-2 hours for new products. This will allow you to find more profitable products and grow your online business. 
Overcoming Doubts and Fears
We understand that investing your hard-earned money in eBay products might seem daunting. However, by using Flipl and following this guide, you can minimize risks and make informed decisions. 
This Flipl Quick Start Guide has provided you with the necessary steps to start finding, vetting, and selling products for a profit using Flipl. With practice, you'll become more adept at identifying opportunities and maximizing your earnings. 
Remember, Flipl's customer support is always available to help you with any questions or concerns along the way. 
Good luck, and happy flipping!